Ave Maria Meditations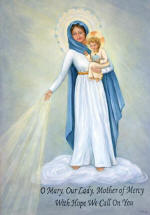 Blessed Virgin Mary, who can worthily repay you with praise and thanks for having rescued a fallen world by your generous consent! Receive our gratitude, and by your prayers obtain the pardon of our sins. Take our prayers into the sanctuary of heaven and enable them to make our peace with God.
Holy Mary, help the miserable, strengthen the discouraged, comfort the sorrowful, pray for your people, plead for the clergy, intercede for all women consecrated to God. May all who venerate you feel now your help and protection. Be ready to help us when we pray, and bring back to us the answers to our prayers. Make it your continual concern to pray for the people of God, for you were blessed by God and were made worthy to bear the Redeemer of the world, who lives and reigns forever. Amen.
+ St. Augustine
To me you are my dear love, my beauty, the great hope of salvation. Help your servant, 0 most glorious Virgin. My voice tells of you tearfully: my heart burns for love. Give heed as well to the prayers of all my brothers who cry unto you: 0 Virgin, you are full of grace; through you may the grace of Christ ever preserve us … 
May devotion and honor recall your memory in this place, 0 Queen of heaven, greatest hope of our life. With your kindness, look upon God's handmaids and servants here who call unto you, O Virgin most mild. In your mercy, give heed in every moment to our prayers, and by your prayers direct our days, always and everywhere … 
Virgin and Mother whose merit is unequaled! O Mary, you alone are the one whom the Lord pre­served in such a condition of soul and body as to make you worthy of the mystery in which the Son of God assumed a body from you as the price of our redemption. 0 most merciful, through whom the whole world has been saved, I pray you, intercede for me, the most unclean of all and stained with every kind of wickedness; intercede for me, for because of my sins, I deserve to receive nothing except eternal punishment. 0 most glorious Virgin, grant that I, saved by your merits, may reach the eternal king­dom. 
Alcuin.