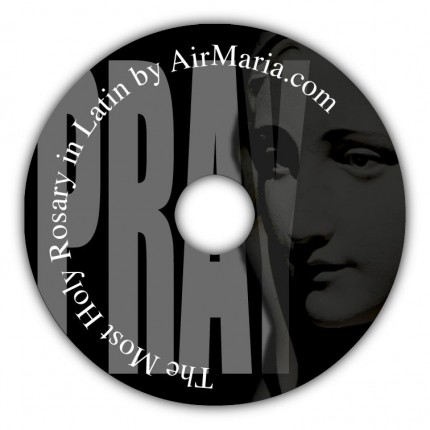 Ave Maria!
With the help of Dr. Hartnett we produced a DVD and CD of the rosary in Latin. You will find just the bare-bones of the rosary here, we leave it up to you to choose the mysteries. This is what you will find.
Sign of the Cross
In nomine Patris, et Filii, et Spiritus Sancti. Amen.
Creed
Credo in Deum Patrem omnipoténtem, Creatórem cæli et terræ. Et in Iesum Christum, Fílium eius únicum, Dóminum nostrum, qui concéptus est de Spíritu Sancto, natus ex María Vírgine, passus sub Póntio Piláto, crucifíxus, mórtuus, et sepúltus, descéndit ad ínfernos, tértia die resurréxit a mórtuis, ascéndit ad cælos, sedet ad déxteram Dei Patris omnipoténtis, inde ventúrus est iudicáre vivos et mórtuos. Credo in Spíritum Sanctum, sanctam Ecclésiam cathólicam, sanctórum communiónem, remissiónem peccatórum, carnis resurrectiónem, vitam ætérnam.
Our Father
Pater noster, qui es in caelis, sanctificetur Nomen Tuum. Adveniat regnum Tuum, fiat voluntas Tua, sicut in caelo et in terra. Panem nostrum quotidianum da nobis hodie, et dimitte nobis debita nostra, sicut et nos dimittimus debitoribus nostris, et ne nos inducas in tentationem, sed libera nos a malo. Amen.
Hail Mary
Ave Maria, gratia plena, Dominus tecum; Benedicta tu in mulieribus et benedictus fructus ventris tui, Iesus. Sancta Maria, Mater Dei, ora pro nobis peccatoribus, nunc et in hora mortis nostrae. Amen.
Glory Be
Gloria Patri, et Filio, et Spiritui Sancto, sicut erat in principio, et nunc et'semper, et in saecula saeculorum. Amen.
O my Jesus
Domine Iesu, dimitte nobis debita nostra, salva nos ab igne inferiori, perduc in caelum omnes animas, praesertim eas, quae misericordiae tuae maxime indigent.
Hail Holy Queen
 Salve, Regina, Mater misericordiae,
vita, dulcedo, et spes nostra, salve.
ad te clamamus exsules filii Hevae,
ad te suspiramus, gementes et flentes
in hac lacrimarum valle.
Eia, ergo, advocata nostra, illos tuos
misericordes oculos ad nos converte;
et Iesum, benedictum fructum ventris tui,
nobis post hoc exsilium ostende.
O clemens, O pia, O dulcis Virgo Maria.