"Blessed be the penances which earned me such glory!" These were the words of St. Peter of Alcântara when, after his death, he appeared to St. Teresa of Avila telling her what had been reserved for him in Heaven.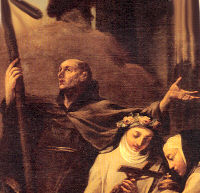 Of the Fruit to be Derived from Prayer and Meditation:  Since this short treatise speaks of prayer and meditation, it will be well to state in a few words what is the fruit which may be derived from this holy exercise, so that men may give themselves to it with more willing heart.   It is a well known fact that one of the greatest hindrances we have to attaining our final happiness and blessedness, is the evil inclination of our hearts, the difficulty and dullness of spirit we have in respect to good rules; for, if this was not in the way, it would be the easiest thing possible to run in the path of virtues, and attain to the end for which we were created.  Concerning which the Apostle says, "I delight in the Law of God, according to the inward man; but I see another law in my members warring against the law of my mind, and bringing me into captivity to the law of sin." (Rom. 7:22-23) 
This, then, is the universal cause of all our evil.  One of the most efficacious means for overcoming this dullness and difficulty, and for facilitating this matter, is devotion; for as St. Thomas says, "Devotion is nothing else than a certain readiness and aptitude for doing good."  For this takes away from our mind all that difficulty and dullness, and makes us quick and ready for all good.  It is a spiritual refection, a refreshment, like the dew of Heaven, a breath and inspiration of the Holy Spirit, a supernatural affection.  It so orders, strengthens, and transforms a man's heart, that it imparts a new taste and inspiration for spiritual things, a new distaste and abhorrence for sensible things. 
The experience of every day shows us this.  For when a spiritually minded person rises from deep devout prayer, then straight away all his good resolutions are renewed, together with fervor and determination to do good; the desire then to please, and to love, a Lord so good and kind as He has then shown Himself to be, a willingness to endure fresh troubles, and chastenings, even to shedding blood for His sake, then, finally, all the freshness of soul is renewed and blooms again.
—–
O Mary, Mary, most holy Virgin Mary, Mother of God, Queen of heaven, Mistress of the world, Sanctuary of the Holy
Spirit, Lily of purity, Rose of patience, Paradise of delight, Mirror of chastity, Model of innocence: intercede for this poor banished pilgrim.
+St. Peter of Alcantara (1499-1562)