Ave Maria!
It is no coincidence that momentous things in our order always seem to occur on the Feasts of Our Blessed Mother, it is after all, Her Order and we are Her possession and property.
Today, on the Feast of Our Lady of  Loreto, Our Lady's Radio Station, Radio CorMariae, WPMW, 88.5 FM New Bedford, MASS was granted a minor modification to our Construction Permit which allows us to install a highly directional antenna mounted on a cell phone tower overlooking the city center. It is a relatively small transmitter, with an effective radiated power of only 140W, but the location means that we should get a good strength signal covering most of New Bedford.
We will find out very sho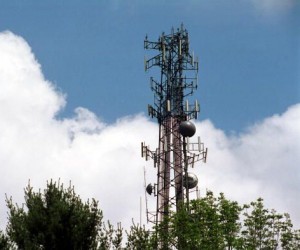 rtly just how good our coverage is as Friar John will be arranging the installation of the antenna and the transmitter early next week and we will probably be testing our signal mid-week and be on the air and broadcasting (unofficially) on Thursday 16th December.
We rejoice with Our Blessed Mother on Her Feast day for the projected launch of the second radio station owned and operated by the Franciscan Friars of the Immaculate in the United States and our heartfelt thanks goes out to all our benefactors without whom we can do nothing. Many thanks to the numerous volunteers who have worked tirelessly to fund raise for this project as well as work on the engineering and construction sides of the station.
Also many thanks to Steve Gajdosik of the Catholic Radio Association, Matt Wesolowski (engineering),  Stu Nolan (legal counsel), and Dennis Kelly (also legal counsel).
Dennis also gave us this little snippet so appropriate to today's Feast and the launch of Radio CorMariae:
"In reviewing today's traditional Roman Martyrology, I found the following reference to the Basilica of the Holy House at Loreto, Italy, one of the more memorable Catholic shrines I've visited:

"At Loreto in Piceno, the Translation of the Holy House of Mary the Mother of God, wherein the Word was made flesh.  Pope Benedict XV declared the same Blessed Virgin Mary, under the title of Loreto, to be the chief Patroness before God of all airmen"."
Airmen – Hey, that's us. AirMaria men. Airwaves men.
A very Blessed and Merry Christmas to you all.
Ave Maria!