Ave Maria!
Another post for Scotus month. Here are some photos from the recent Newman-Scotus Symposium held at the Washington Theological Union on Oct 22-24, 2010. Photos by Fr. Martin Breski, OFM Conv.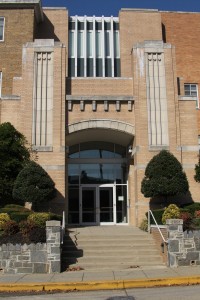 Washington Theological Union
+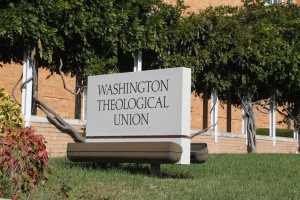 +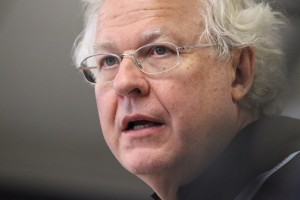 Fr. Edward Ondrako, OFM Conv. organizer par excellance
+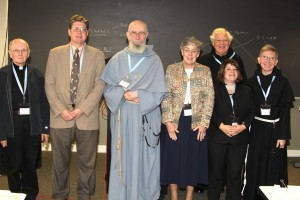 The presenters and organizers.
+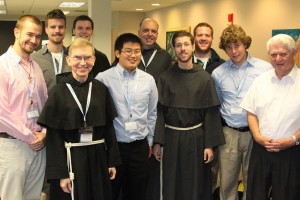 Some attendees from the Conventual Franciscan Seminary
+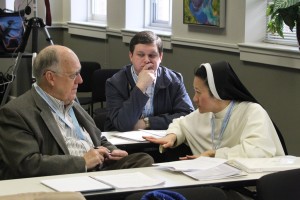 Discussions abound
+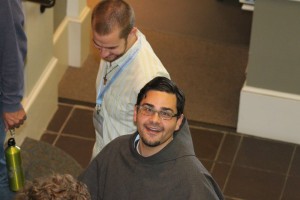 +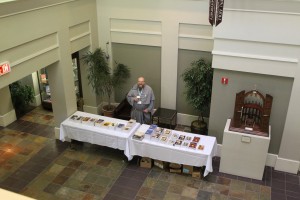 Drinking on the job (coffee), me at the the FI book stall.
+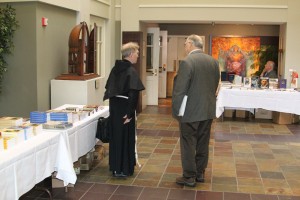 Two book stalls, the FIs and another local theological book seller toward the back.
+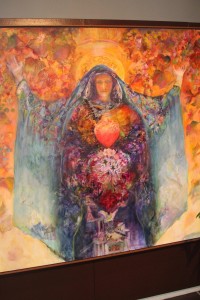 Much of the art in the building was modern and strange but I liked this one.
+
The library was pretty nice.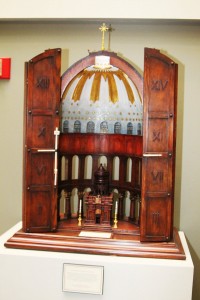 They had some beautiful models of churches on display in the lobby.
+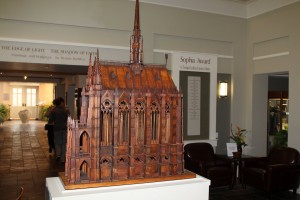 Here's another
+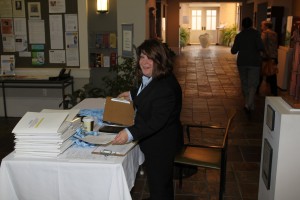 The welcoming committee and able assistant oraganizer.
+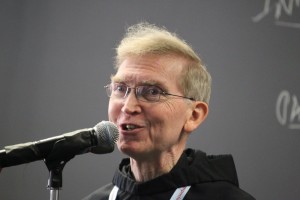 Fr. James McCurry, OFM Conv. gives the opening address
+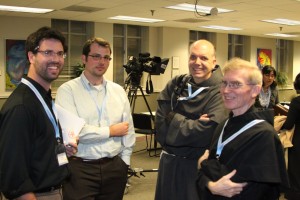 Some attendees
+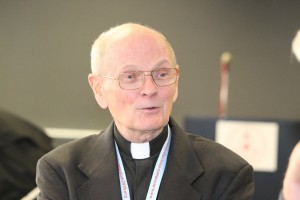 Rev. Dr. John Ford, C.S.C., editor of Newman Studies and Professor of Historical Theology at the Catholic University of America gave the first lecture of the symposium

+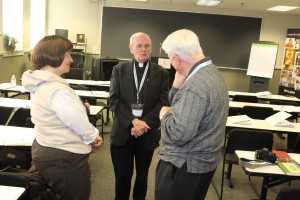 +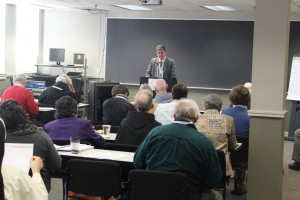 Dr. Timothy Noone, Professor of Philosophy at the Catholic University of America and member of the International Scotus Commission gives the second talk.

+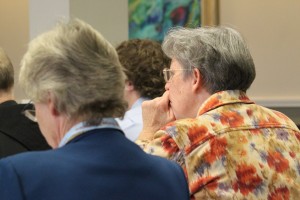 These attentive attendees are also presenters.
+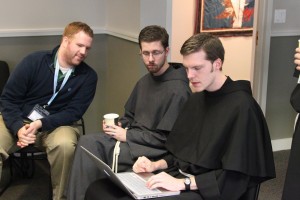 Seminarians during a break
+
Fr. Peter Fehlner, FI and Dr. Timothy Noone having a discussion. Someone has to tell that other friar not to look at the camera!
+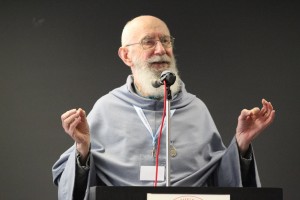 Fr. Peter in full swing giving the third lecture
+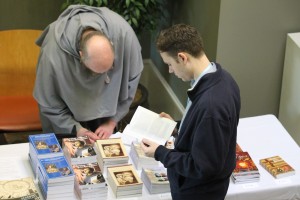 Making a sale, … er donation.
+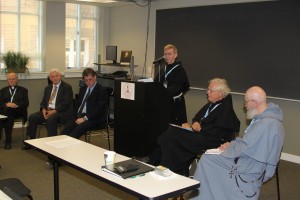 The panel discussion
+
+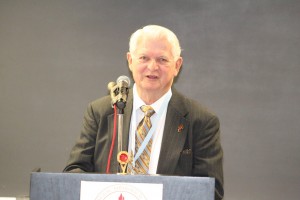 Deacon Jack Sullivan gives his personal testimony on the miracle that happened to him which led to the beatification of John Cardinal Newman.
+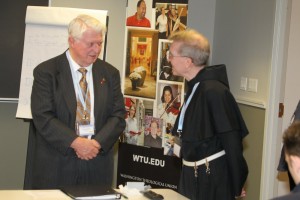 +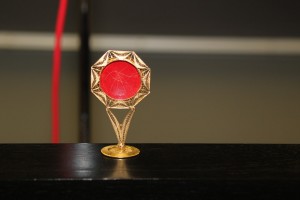 One of the only remaining first class relics of Cardinal Newman, clippings from his hair brought to the symposium by Deacon Jack.
+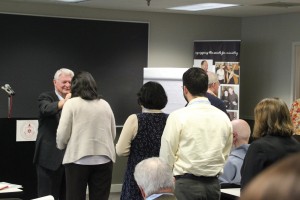 The relic being venerated.
+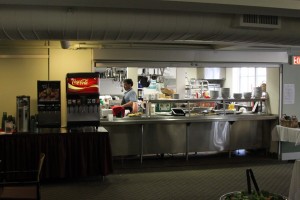 The cafeteria
+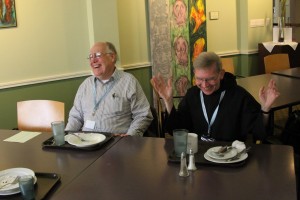 Lunch with laughter
+
Dominican nun with her black and white habit and matching black and white computer.
+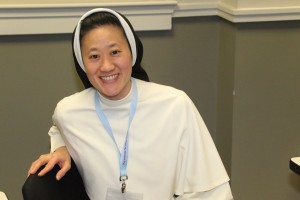 Even Dominicans can enjoy a good Scotistic talk
+
"Wait, are you trying tell me that prime matter actually exists?!!"
Just kidding, making up a Franciscan caption. (Whether prime matter exists by itself or not is a hotly debated subject between Franciscans and Dominicans but such contentious issues were not discussed at the symposium)
+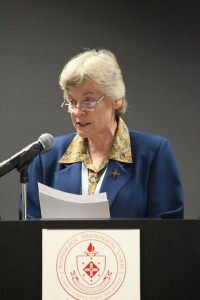 Sr. Mary Beth Ingham gives the Keynote Address for the Symposium.

+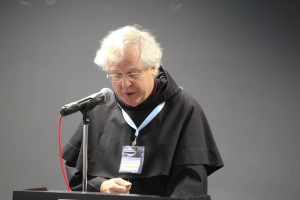 Fr. Edward Ondrako gives his lecture
+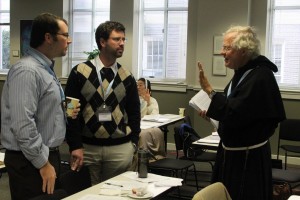 Clearing up those lingering questions
+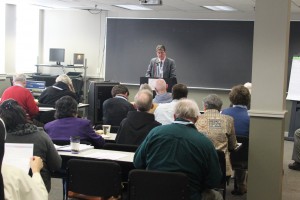 Another round of lectures
+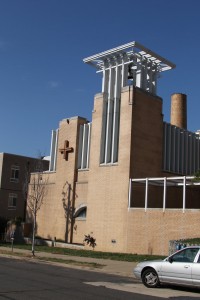 The Chapel at WTU
+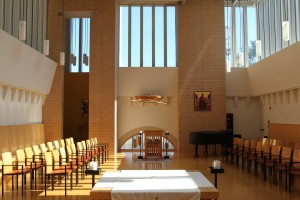 Inside the Chapel at CTU
+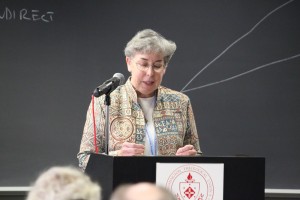 Sr. Pat Hutchison, OSF, Ed.D gives the summary statements

+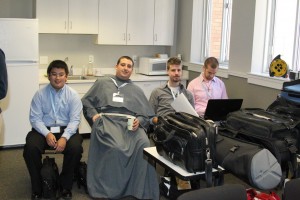 Seminarians guarding the rear … and the gear.
+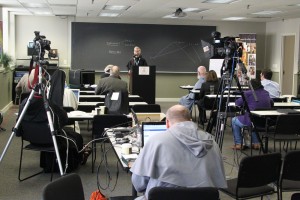 Fr. Breski's cool cameras.
Stay tuned for the videos.
Ave Maria!