Ave Maria!
Well, as many of you have noticed, we have been down quite a few times in the last 24 hours with a message something like: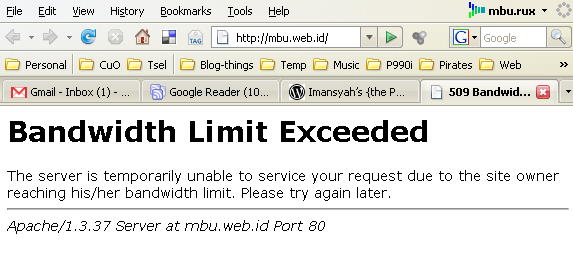 Our generous benefactor who gives us the web space free (he owns a web design business) has told us that AirMaria has maxed-out the current server.
The Good News
This is good news in that we now have about double the traffic coming to the site.
The Bad News
But it is also bad news in that we now need to upgrade to a dedicated server! This will be about four times the price. Our benefactor would love to pay for the whole server but with EIGHT kids (truly a pro-life Catholic!) he has some pretty serious budget constraints. The cost will be $200 per month.
He is willing to pitch in $50 per month and a lot of his precious time in regard to free consulting and tech support. What we need is three more people to commit to supporting us with a $50 monthly donation. If you are willing, we can even set up an electronic payment feature that will make the entire process as easy as possible in the months to come.
With this server we will be able to keep AirMaria going well into the future, even with 20 times the traffic! It is something to seriously pray about. Let me know by sending an email to apostolate@airmaria.com
In the Hearts of Jesus and Mary,
Fra Roderic