Ave Maria Meditations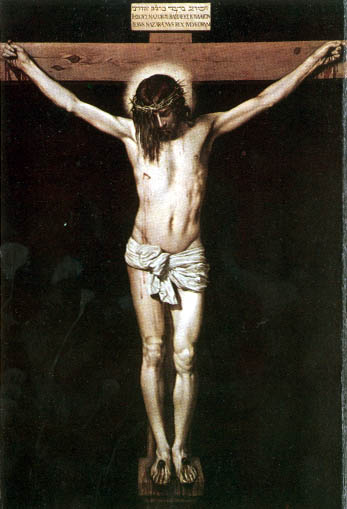 "His Blood Be on Us!"
Jesus, Man of Sorrows, the crime of the Jews reminds me of my own sinning. I heard Your Father say to me, "This is My beloved Son in whom I am well pleased," and yet my sins made me cry out, "Away with Him! Crucify Him!" I have loved death and slain the God of my salvation.
Give me an attitude toward sin like unto Yours; yes, one with Yours. because of the infinite iniury it causes the sovereign goodness of Your heavenly Father and its fatal hurt to my own immortal soul. When I sinned, I cried out that Your Blood might be upon me. May it be upon me henceforth, because I come to You in repentance for my sinful past. May Your Blood be upon the outward life I live, a sign that Your love now reigns within my soul, as a proof of my sincerest love. gratitude and loyalty. May Your Blood be upon my children, namely, upon all my works and words, and ever redden with Its glorious merit the whole stream of my life. And when life's day is done, may the seal of Your Blood be a lasting, shin­ing mark upon my soul, to place me among those of whom it is said, "These are they who have washed their robes and made them white in the Blood of the Lamb" (Rev. 7:14).
The Meeting of Martyrs
Jesus, Man of Sorrows, there is one who remains close to You in joy and in pain – Your own dear Mother. Who will describe the sorrow that pierces her loving soul when she catches sight of You, the dear and beloved Son of her heart of hearts, with Your head crowned with thorns, Your face stained with blood and spittle, miserably swollen and disfigured? She had once known You beautiful, with the freshness of Divine innocence and peace upon Your sacred face; now she sees You so changed and deformed that she can scarcely recognize You. Not a feature, not a limb but speaks of the frightful guilt of sin, of punishment, of agony.
Jesus, in Your glance upon her so desolate, every fiber of Your Heart seems to be torn. And she feels all Your pain together with You. How she would have snatched that hide­ous crown from Your head, cleansed and kissed Your wounds, knelt down and adored You, taken You away and nursed You to health. But no! She remembers why You are suffering all this. That dear Mother of Sorrows gives You up to die for my redemption.
That blessed meeting when only a word of love passes between you is full of love, for never did son love his mother as You love Yours. When You, when her hands and Yours touch the Cross together as a pledge of joint suffer­ing, lasts but an instant, and then Your Mother is thrust back into that mob, thirsty for Your death, by the soldiers who know not who she is, nor care.
The Divine Mediator
Jesus, Man of Sorrows, at last the dearest wish of Your life is granted ­You are crucified. You have been the Victim of the envy of the high priests, of the mockery of Herod, of the weakness of Pilate, of the ingratitude of the people; but You will to die unavenged. Patiently You hang there on the open wounds of Your hands and feet, exhausted almost to death by the long stretch of the physical and mental suffer­ing You have undergone. Your Sacred Body, which suffers so much because It has so great a Soul, is now turned into a crucible of pain where all the sufferings of the world burn together.
My Savior, I am surprised at the cruelty of Your ene­mies and the greatness of Your torments, but what have I done to ease or lessen Your suffering? On the contrary, how much I have done to increase it!  Never before did You appear more lovable in Your prayer than now, as You hang between heaven and earth, an inter­mediary between an infinite God and His sinful creatures. With extended arms, and hands dug with nails, in an upright peni­tential posture of prayer, as our elder Brother, You plead the cause of wayward children before Your offended Father and offer Yourself to Him as a Victim for the sins of the world. Your bleeding wounds are proofs of a love unto death.
I see Your head bent down to reach me in my sinfulness ; Your arms extended to embrace me, though it was I who nailed them there; Your Body hanging to redeem me, though I sometimes hardly seemed to care. You love me with a Heart I myself have broken, and offer Your death, the most painful and most disgraceful known to the human race, to save me from eternal death; yet too often You have found me so slow to appre­ciate all You have done.
"I Will Draw All Things to Myself"
Jesus, hatred lifted You up on a cross; hut once on it You said You would lift all lovers up to Your Heart, which is Love, "And I, if I be lifted up from the earth, will draw all things to Myself" (John 12: 32) . You are now fulfilling that promise, for You are drawing heaven to Yourself, as You hang on the Cross, to give me the possession of it, and God, to make me His child and friend again. Oh, draw also my poor heart, so cold and ungrateful, to Yourself to inflame it with Your own love and generosity; my sinful soul as well, to cleanse and save it. You are true to me till death.
Then draw me, Lord, and make me true to Yon forever, both in my inner­most soul by faith in Your doctrine, hope in Your Divine promises and love of Your holy Person, and in my outward behavior by daily imitation of Your crucified life and by an unceasing union of my life with Your Sacrifice on the Cross. Dear Savior, draw all the world to Your crucified Self, as You promised, that all men may find in Your broken Heart, peace, consolation, and joy here, and eternal life and bliss hereafter.Let me at last learn that the Crucifix does not teach pain, but sacrifice, for sacri­fice is pain with love. Let me mount the cross with You so that the pain I hear in life may he transformed through love into a joyful sacrifice.
Fr. Lawrence Lovasik : Heart Talks with the Man of Sorrows