Ave Maria Meditations
I ask your prayers as I prepare for a pilgrimage to holy places in Italy
including Siena, Assisi, and Rome.  Ave Maria! SrJMMfti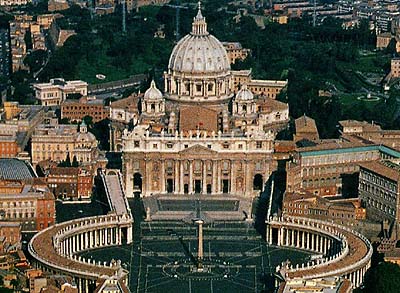 Prayers for Pilgrims
Pilgrimage is traditionally a journey to a holy place — a place where saints have walked, a place where God has met people and blessed them.
People through the ages have journeyed with God on pilgrimage — to perform a penance, to ask for healing, to pray for places where there is war or national disaster, to pray for friends.
Pilgrimage is an opportunity to travel lightly, to walk free of daily routines, to meet people, to make friends, to enjoy and celebrate God's creation. An opportunity, too, in the traveling, in the conversations, and in the silences to reflect on the journey of our lives and on our journey homeward to God.
Prayers before setting out on a pilgrimage
God of the guiding star, the bush that blazes
SHOW US YOUR WAY
God of the stormy seas, the Bread that nourishes
TEACH US YOUR TRUTH
God of the still, small voice, the wind that blows where it chooses
FILL US WITH LIFE
God of the elements, of our inward and outward journeys
SET OUR FEET ON YOUR ROAD TODAY.
MAY GOD BLESS US WITH A SAFE JOURNEY
MAY THE ANGELS AND SAINTS TRAVEL WITH US
MAY WE LIVE THIS DAY IN JUSTICE AND JOY. AMEN.
[P]ilgrimage is … a sign of contradiction, and of resistance to our prevailing value system, that of the market. Pilgrimage, after all, has no function other than itself; its means is as important as its end, its process as its product. Its utility value is small, and its benefits cannot be quantified or costed. Its value is intrinsic. It is something that is good to do because it is good to do. It states clearly that the extravagant gesture (because it is extravagant in terms of time and commitment) is an irrepressible part of what it means to be human and to walk on the earth. And whether the context for pilgrimage is solitude or community, we will be drawn deeper into the mystery of God and the care of creation. (Kathy Galloway)
Bless to us, O God,
the earth beneath our feet.
Bless to us, O God,
the path whereon we go.
Bless to us, O God,
the people whom we meet. Amen.
Pilgrimage
Pray for all pilgrims and seekers
and companions on the way;
for all travellers.
Christ, may I walk together with you,
in solidarity with the poor and
with all of God's creation.
+
Pilgrimage is feet-on-the-ground spirituality. (Jan Sutch Pickard)
Follow truth wherever you find it.
Even if it takes you outside your preconceived ideas of God or life.
Even if it takes you outside your own country
into the most insignificant alien places
like Bethlehem.
Be courageous. But concentrate on your search.
Truth is one. All roads lead to home. (George MacLeod)
+
from This is the Day: Readings and Meditations from the Iona Community,
Neil Paynter, ed., Glasgow, UK: Wild Goose Publications, 2002
——————-
Clare
I met you in Assisi from ages past,
in your place of prayer, on the step stone paths.
In those who follow yet your way,
your presence is felt by pilgrims and
friends who seek God as we quietly pray.
I met you at Holy Island and Gate
in ages present in your place of prayer,
in your hospitality shared and kindness of gifts,
your presence welcomed by pilgrims and friends
coming once or again and again.
I will meet you again in places and times yet to be named.
For Claire will be there in a place of prayer,
serving her God for all of creation to share.
Blessing of Pilgrims
590 Whether in a traditional or a modern form, a pilgrimage to a holy place, to the tomb of a saint, or to a shrine should be regarded as having pastoral value. Pilgrimages are occasions for conversion, spiritual growth, and the advance of the apostolate.
591 The proper, that is, spiritual, character of the Christian pilgrimage must be carefully explained and inculcated ahead of time, so that the pilgrims will truly be "traveling heralds of Christ" and will experience fully the good effects of their pilgrimage.