Ave Maria!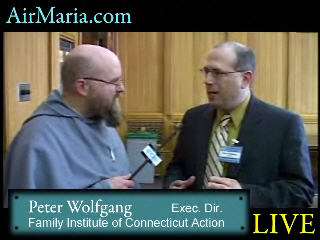 We live streamed the Religious Liberty Rally and Debate at the State Capitol of Connecticut in Hartford today. It was a rally that was announced by FIC on short notice due to the unprecedented onslaught of anti-family legislation introduced by the Judicial Committee in the last few weeks, so the crowds were low, but even still there were over 125 people on this cold, cloudy, spring weekday. The talks were very inspirational with Peter Wolfgang of FIC, Sen Michael McLachlan, Rep. Bruce Morris, and Rev. Eric Thompson. After the rally there was a well attended debate held by the Federalist Society between Prof. Susan Schmeiser/UConn Law and Prof. Robin Wilson/Washington & Lee Law at the Capitol Building. Although the debate was not very stimulating since both debaters were largely in agreement, they did discuss the very timely issues of how to apply the Kerrigan Supreme Court Case that gave CT same-sex marriage. A very informative Day.
Listen to Peter Wolfgang of the Family Institute of CT give his synopsis of today's events. (We are still working on improving the quality of the recording while doing live streaming, so bear with us. The audio suffered some bad distortion at first but it gets a bit better latter in the video.)
We will post some links to the other videos soon.
Ave Maria!