Ave Maria!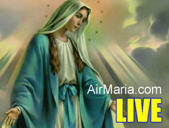 We are busily working out the bugs for doing live streaming on a more routine basis for events here at the friary and in the field. We hope to be doing daily broadcasts of the morning Mass. For this reason we have not given much advanced notice of our upcoming live broadcasts since we are still in the experimental stage.  This effort will require some purchasing of equipment so please be generous in this Lenten Season by pressing the donate button in the top of the right hand sidebar, Thank you.
Upcoming events:
Wednesday, March 25, 7pm, Missa Cantata Latin Mass:
We will be having a live broadcast tonight at 7pm Eastern for the Missa Cantata at our friary here in celebration of the Feast of The Annunciation, which the FIs are celebrating as a Solemnity.
Friday, March 27, Fr. Paul Check of Courage:
St. Patrick's Church in Providence, RI. Link to map: Click Here. Fr. Paul N. Check, nationally known speaker and incoming Executive Director of Courage, International for Mass, followed by a discussion about: "Courage, the Cross, and Same Sex Attraction: What Does the Catholic Church Really Teach About Homosexuality?" Broadcast depends on internet availability at the site.
Saturday, March 28,  3-8pm, Prolife Youth Conferernce:
Prolife Youth Conference at the St. Micheal's Gym at the Holy Family Academy in Baltic, CT. Many dynamic speakers  from the area covering a wide number of subjects on how to be a pro-life evangelist. Broadcast depends on internet availability at the event.