Ave Maria Meditations
"I am the Immaculate Conception" :
words of Our Lady to St. Bernadette
on March 25, 1858.
Ineffabilis Deus: Apostolic Constitution issued by Bl. Pope Pius IX on December 8, 1854
"We declare, pronounce and define that the doctrine which holds that the most Blessed Virgin Mary, in the first instance of her conception, by a singular grace and privilege granted by Almighty God, in view of the merits of Jesus Christ, the Savior of the human race, was preserved free from all stain of original sin, is a doctrine revealed by God and therefore to be believed firmly and constantly by all the faithful."
God Ineffable — whose ways are mercy and truth, whose will is omnipotence itself, and whose wisdom "reaches from end to end mightily, and orders all things sweetly" — having foreseen from all eternity the lamentable wretchedness of the entire human race which would result from the sin of Adam, decreed, by a plan hidden from the centuries, to complete the first work of his goodness by a mystery yet more wondrously sublime through the Incarnation of the Word. This he decreed in order that man who, contrary to the plan of Divine Mercy had been led into sin by the cunning malice of Satan, should not perish; and in order that what had been lost in the first Adam would be gloriously restored in the Second Adam. From the very beginning, and before time began, the eternal Father chose and prepared for his only-begotten Son a Mother in whom the Son of God would become incarnate and from whom, in the blessed fullness of time, he would be born into this world. Above all creatures did God so loved her that truly in her was the Father well pleased with singular delight. Therefore, far above all the angels and all the saints so wondrously did God endow her with the abundance of all heavenly gifts poured from the treasury of his divinity that this mother, ever absolutely free of all stain of sin, all fair and perfect, would possess that fullness of holy innocence and sanctity than which, under God, one cannot even imagine anything greater, and which, outside of God, no mind can succeed in comprehending fully.
For the entire encyclical see
http://www.papalencyclicals.net/Pius09/p9ineff.htm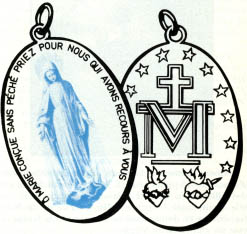 Tota Pulchra es
Was the Blessed Virgin conceived in sin? The answer is no, for as Augustine writes: "When sin is treated, there can be no inclusion of Mary in the discussion." And Anselm says: "It was fitting that the Virgin should be resplendent with a purity greater than which none under God can be conceived." Purity here is to be taken in the sense of pure innocence under God, such as was in Christ.
The contrary, however, is commonly asserted on two grounds. First, the dignity of her Son, who, as universal Redeemer, opened the gates of heaven. But if Blessed Mary had not contracted original sin, she would not have needed the Redeemer, nor would He have opened the door for Her because it was never closed. For it is only closed because of sin, above all original sin.
In respect to this first ground, one can argue from the dignity of her Son as Redeemer, Reconciler, and Mediator, that she did not contract original sin.
For a most perfect mediator exercises the most perfect mediation possible in regard to some person for whom he mediates. Thus Christ exercised a most perfect act of mediation in regard to some person for whom He was Mediator. In regard to no person did He have a more exalted relationship than to Mary. Such, however, would not have been true had He not preserved her from original sin.
Blessed John Duns Scotus