Ave Maria Meditations
And behold a voice from heaven saying: This is My beloved Son, in whom I am well pleased. (Mt.3:17)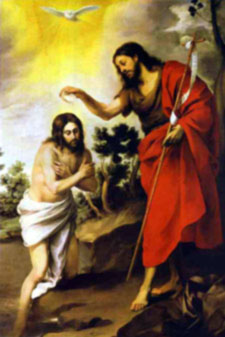 The prophecies of the Old Testament are fulfilled in the New Testament:
(Is.42:1) Behold, my servant, whom I uphold; my chosen, in whom my soul delights.
God the Father: (Mt. 17:5) from the cloud there came a voice which said, "This is my Son, the Beloved; he enjoys my favour. Listen to him."  
The Mother of Jesus: (Jn.2:5)  His mother said to the servants, 'Do whatever he tells you'.
(Gen.22:8) And Abraham said, My son,God will provide himself a lamb.
(John 1:35-36)  The next day again John…beholding Jesus walking, he said: Behold the Lamb of God.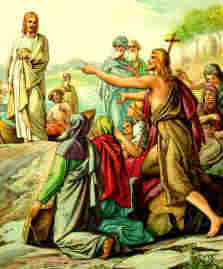 (Ex.13:21) And the LORD went before them…by night in a pillar of fire, to give them light…
John the Baptist: (Mt. 3:11) He will baptize you with the Holy Spirit and with fire.
(Is.49:1-3) Listen…you peoples: Yahweh has called me from the womb…he made mention of my name:  and he has made my mouth like a sharp sword…and he said to me, You are my servant; Israel, in whom I will be glorified.
(Lk. 1:31)  You are to conceive in your womb and bear a son, and you must name him Jesus.
(Mt.1:21) She will give birth to a son and you must name him Jesus, because he is the one who is to save his people from their sins.
(Heb.4:12) For the word of God is living and effectual and more piercing than any two edged sword.
(Is.42:7) That thou mightest open the eyes of the blind.
(Lk.7:20-22) And when the men were come unto him, they said: John the Baptist hath sent us to thee, saying: Art thou he who is to come? Or look we for another? And in that same hour, he cured many of their diseases and hurts and evil spirits: and to many that were blind he gave sight.) And answering, he said to them: Go and relate to John what you have heard and seen: the blind see…
(Mt.12:22) Then was offered to him one posessed with a devil, blind and dumb: and he healed him, so that he spoke and saw.
(Jn.9:1,7) And Jesus passing by, saw a man who was blind from his birth.And said to him: Go, wash in the pool of Siloe. He went therefore and washed: and he came seeing.  
(Is.49:6) Behold, I have given thee to be the light of the gentiles, that thou mayst be my salvation even to the farthest part of the earth.
(Lk.2:32) He shall be a light to the revelation of the gentiles and the glory of thy people Isreal.
(Jn.9:5) I am the light of the world.