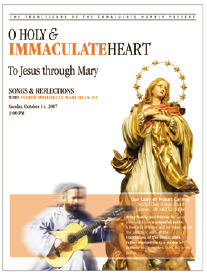 Ave Maria!
Fr. Maximilian will be having his last two Concerts before he heads to Italy on a permanent assignement. His concerts are a great family event that combine music, prayer and spiritual reflection on the beauty and holiness of Our Lady. Spiritual food for all ages. A basket will be passed for a free will offering to support the Apostolic Work of the Franciscans of the Immaculate.
His schedule will be as follows:
Thursday, Oct 11th?7:30pm, Holy Rosary Catholic Church, 1510 Adee Ave., Bronx,? NY. He will sing?with Michael Grogan. Help Promote by Printing a Flyer (729kB) and posting in your parish.
He will be at the Behold Your Mother Conference on Oct. 13th in Greenwood, IN where he also will be playing some songs.
Sunday, Oct 14th, 3pm, Our Lady of Mount Carmel, 14598 Oak Ridge Rd., Carmel, IN where he will sing solo. Fr. Maximilian is a native of Indiana and considers OLMC as his home parish. Help Promote this event by Printing a flyer (501kB) and Posting in your parish.
Some samples of one of his previous concerts can be seen at:
Video – Music "I Will Lead You Into Solitude??
Video – Fr. Maximilian and Michael Grogan – Mother Mary Hide Me
Video – Immaculate Music – Oh Coredemptrix
Video – Music – In the Breaking of the Bread
+++