From Left to Right:
Bill Cloonan, Zach Willi, Ryan Timossi, Steve Dawson, Joe Jakopac,
& Alex Joseph.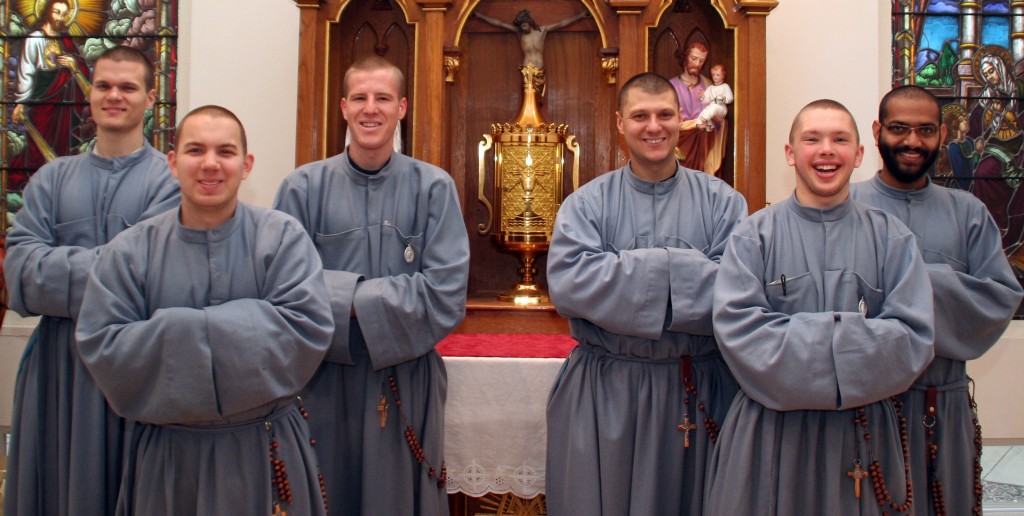 Ave Maria!
We rejoice and thank Our Blessed Mother for the good young men She is sending to us as vocations. On the Solemnity of the Immaculate Conception of the Blessed Virgin Mary, six young men received the Holy Habit at a simple ceremony conducted before the 7pm Missa Cantata at the Friary of "Our Lady Spouse of the Holy Spirit" in Maine, NY. Here's a transcript from Fr. Johannes' homily:
"… I'd be remiss if I didn't mention the beautiful event that took place before Mass: Six young men were clothed in the Franciscan habit. I think it's very meaningful that we have this tradition of giving the habit to our new postulants on the Feast of Our Lady's Immaculate Conception. Why? Because they, too, want to be clothed. Just as Our Lady was clothed in that splendid garment of grace from the first moment of Her Conception, these young men want to be clothed in God's grace. They want to be clothed in our Blessed Mother. They want to belong to Her. They want to be entirely wrapped up in Her, dwelling in Her Heart at all times. They want to be visible signs, instruments in this world of Our Lady Mediatrix of all grace; and so they put on Her habit. Grey is the traditional Franciscan color. St. Francis' habit was made out of undyed lambswool which was gray, not brown. If you see the ones that are in the museums and shrines over in Italy today, you'll see they've gone a little brown, but that's because they're hundreds of years old. The original color was gray. Our habit is gray-blue which represents the fact that we're consecrated to Our Blessed Mother."
Ave Maria!