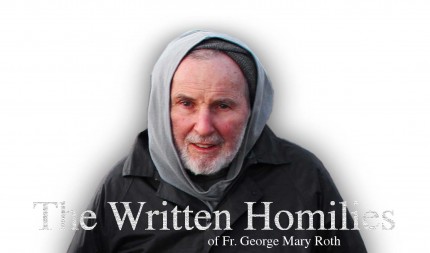 21st  Sunday After Pentecost
6 November 2011
"… Wicked servant! I forgave thee all the debt, because thou didst entreat me."
 Mt. 18:32
Don Prosper Gueranger in his book, The Liturgical Year, Vol. 11, tells us of the importance of today's liturgy in these final weeks after Pentecost:  "Durandus, Bishop of Mende, in his Rational, tells us that this and the following Sundays till Advent bear closely on the Gospel of the marriage-feast, of which they are really but a further development. 'Whereas,' says he, speaking of this twenty-first Sunday, 'this marriage has no more powerful opponent than the envy of satan, the Church speaks to us today of our combat with him and on the armour wherewith we must be clad in order to go through this terrible battle, as we shall see by the Epistle (Ephesians 6:10-17).'"  Gueranger, p. 438. The combat with Satan is even more dramatic in these last Sundays after Pentecost because the Church reminds us of the approach of the final days of this world and coming general judgment. Dom Gueranger comments on how the person of Job in today's Offertory Antiphon reveals the "ruling idea" of today's Mass: "Reduced, like Job on the dung-hill, to the extremity of wretchedness, the world has nothing to trust to but God's mercy. The holy men who are living in it, imitating in the name of all mankind the sentiments of the just man of Idumea (Job) honour God by patience and resignation which do but add power to and intensity to their supplications."  Gueranger, p. 439.  Only those men  who are just and patient, like Job, will be able to forgive their enemies. This is the lesson of the parable of The Unmerciful Servant in today's Gospel (Mt. 18:23-35).  If we wish God to forgive us our sins, then we also need to forgive those who have offended us.
Spousal Union with God
            The early stages of man's union with God here on are earth are usually filled with consolation, but then the spiritual combat ensues.  However, Dom Gueranger reminds us that Jesus is always available to help His spouses: "There is no name so frequently applied to Him by the prophets as that of God of hosts. His divine Son, who is the Spouse, shows Himself here on earth as the Lord who is mighty in battle. In the mysterious nuptial canticle of the forty-fourth Psalm, He lets us see Him as a powerful prince, girding on His grand sword, and making His way, with His sharp arrows, through the very heart of His enemies, in order to reach, in the fair valiance and beautiful victory, the bride He has chosen as His own.  She, too, the bride, whose beauty He has vouchsafed to love, and whom He wills to share in all His own glories (cf. Ps. 45) advances  towards Him in the glittering  armour of a warrior (cf. Cant. 4:4), surrounded by choirs (cf. Cant.  7:10) singing the magnificent  exploits of the Spouse, while she herself is terrible as an army set in array (cf. Cant. 6:9). The armour of the brave is on her arms and breast; her noble bearing reminds one of the tower of David, with its thousand bucklers (cf. Cant. 4:4)."  Gueranger, p. 441-2
"… the rulers of this world of darkness…."
In today's Epistle, St. Paul reminds us that our enemies are the rulers of this world of darkness: "For our wrestling is not against flesh and blood, but against the Principalities and the Powers, against the world-rulers of this darkness, against the spiritual forces of wickedness on high." Eph. 6: 12 The soul, the bride of Christ, has to prove herself by overcoming the forces of evil especially until the evil day of judgment: "Therefore take up the armour of God, that you may be able to resist in the evil day, and stand in all things perfect." Eph. 6:13 Dom Gueranger reminds us that the Church (i.e. all the faithful souls)  is strengthened  by the Lord:  "The faithful soul is out of herself with love, when she remembers that the armour she wears is the armour of God, that is, the very armour of her Spouse.  It is thrilling to hear the prophets describing Jesus, our Leader, accoutred for battle, with all the pieces we, too, are to wear: He girds himself with the girdle of faith (cf. Is. 11:5); then He puts the helmet of salvation on His beautiful head (cf. Is. 59:17); then the breast-plate of justice (cf. Wis. 5:19); then, the shield of invincible equity (cf. 5:20); and finally a magnificently tempered sword, the sword of the Spirit, which is the word of God (cf.  Apoc. 2:16)….The victory which overcometh the world, is our faith, says St. John (cf. I Jn. 5:4).  When St. Paul, at the close of his career, reviews the combats he had fought through life, he sums up all in this telling word: 'I have kept the faith' II Tim. 4:7.  The life of Paul, in that,  should be the life of every Christian, for he says to us: 'Fight the good fight of faith!' I Tim 6:12. It is faith, which, in spite of those fearful odds enumerated in today's Epistle as being against us, ensures the victory to men of good will…Better than breast-plate or helmet, the shield of faith protects us from every sort of injury; it blunts the fiery darts of the world, it repels the fury of our own passions, it makes us far-seeing enough to escape the most  artful snares of the most wicked ones. Is not the word of God good for  every emergency?  And it is never wanting to us." Gueranger, p. 443-5
"O thou just Judge of vengeance, grant us the gift of forgiveness before the day of reckoning cometh!" Dies irae
            Today's Gospel parable, The Unmerciful Servant  has its main object lesson to teach us how to forgive so that we can be ready for general judgement, that "day of days." Dom Gueranger comments on the meaning of the parable: "We are all of us, in fact, that negligent servant, that insolvent debtor, whose master might, in all justice, sell him with all he has, and hand him over to the torturers. The debt contracted with God by the sins we have committed is of such a nature as to deserve endless tortures; it supposes an eternal hell, in which the guilty one will ever be paying, yet never cancelling his debt. Infinite praise, then, and thanks to the divine Creditor, who, being moved to pity by the entreaties of the unhappy man who asks for time and he will pay all, grants him far beyond what he prays for, by immediately forgiving him the debt.  He attaches but one condition to the pardon, as is evident from the sequel.  He insists, and most justly, that he should go and do in like manner towards his fellow-servants, who may perhaps, owe something to him. After being generously forgiven by His Lord and King, after having his infinite debt so gratuitously cancelled, how can he possibly turn a deaf ear to the very same prayer which won pardon for himself?  Is it to be believed that he will refuse all pity towards one whose  only offense is that he asks him for time, and he will pay all.
"'It is quite true,' says St. Augustine, 'that every man has his fellow-man for a debtor; for who is the man that has had no one to offend him?  But, at the same time, who is the man that is not debtor to God?  For all of us have sinned. Man, therefore, is both debtor to God and creditor to his fellow man.  It is for this reason that God has laid down this rule for thy conduct, that thou must treat thy debtor, as He (God) treats His…" Gueranger, p. 449-50
Forgetfulness of our sins
            Dom Gueranger reminds us how we all want God to forgive and forget our sins, so we should do the same for our neighbour:  "But, if we thus feel it a happy necessity, to find in the heart of our heavenly Father (cf. Mt. 6:9)  forgetfulness of our day's faults, and an infinitely tender love for us, how can we, at that very same time, dare to be storing up in our minds any bitterness against our neighbours, our brethren, who are also His children.  Even supposing that we had been treated by them with outrageous injustice or insult, could their faults bear any comparison with our offences against that good God, whose born enemies  we were, and whom we have cause to be put to an ignominious death?  Whatsoever may be the circumstances attending the unkindness shown us, we may and should invariably practise the rule given us by the apostle: 'Be ye kind one to another, merciful, forgiving one another, even as God has forgiven you, in Christ! Be ye imitators of God as most dear children.'" Eph. 4:32   Gueranger, p. 451  Only those are true spouses of Jesus Christ and worthy of heaven who are merciful and forgiving to those who have offended them.
Could you not, then, watch one hour with Me?…" Mt. 26:40
   "….  Particular attention should also be given to Eucharistic adoration, and in every diocese there should be churches or chapels specifically devoted to this purpose. I ask parishes, seminaries, religious houses and monasteries to organise periods of Eucharistic adoration, so that all have an opportunity to take part…" (#14)     Pope Benedict XVI, "Pastoral Letter to the Catholics of Ireland." 3 March 2010   We are now in our second year  of adoration (as of 4th July 2011).  Please sign up as an adorer.
The Five First Saturdays
 Our Lady told Sr. Lucia in 1925 "…I promise to assist at the hour of death, with all the graces necessary for salvation, all those who, on the first Saturday of five consecutive months go to confession and receive Holy Communion, recite five decades of the Rosary and keep me company for a quarter of an hour while meditating on the mysteries of the Rosary, with the intention of making reparation to me."  If only we would do what Our Lady asks, we would be assured of eternal salvation.  Our Lady promises us all the graces necessary for our salvation if we keep The Five First Saturdays! 
After Mass, we will have the veneration of  the skull of St. Cuthbert  who celebrated the Holy Mass here in this monastery when it belonged to the Arundells.
Coffee and tea in St. Joseph's Hall after Mass.