Wednesday, November 21st, 2012
Ave Maria Meditations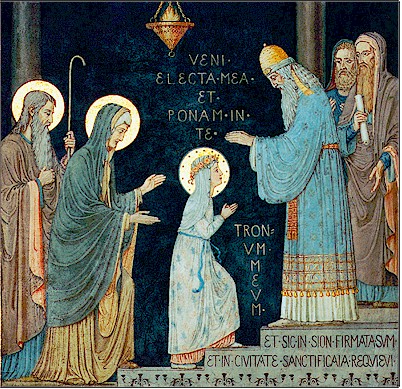 According to tradition, Our Lady was presented at an early age to the Temple having to leave behind her beloved family and home.  November 21st commemorates this event and is often a date chosen for new members of religious orders to make their professions, those who also leave behind 'the world' and their beloved families.  Here is a thought on religious profession from Venerable Mary of Agreda:
INSTRUCTION WHICH THE QUEEN OF HEAVEN GAVE ME CONCERNING THE VOWS OF MY PROFESSION:
444. My dear daughter, I will not deny thee the instruction thou askest of me with the desire of putting it into practice ; but do thou receive it with an appreciative and devout mind, ready to follow it in deed…Accordingly he who has made vows to God has bound his own will; so that he has no freedom of acting except according to the will and direction of Him to whom he has bound himself; for he is chained down by the words of his own mouth uttered in the profession of his vows. Before taking his vows, the choice of his ways was in his own hands; but having once bound and obliged himself, let him know that he has entirely lost his liberty and had delivered himself up to God in his superiors. The whole ruin or salvation of souls depends upon the use of their free will; but since most men use it ill and damn themselves, the Most High has established religious life under the sacred vows. Thus the creature, by once using its liberty to make a perfect and prudent choice, can deliver up to his Majesty that very liberty, which so many pervert, if it remains free and unhampered in its choice.
445. By these vows the liberty to do evil is happily lost, and the liberty for doing good is assured. It is like a bridle, which leads away from danger and directs into the smooth and sure road. (more…)