Tuesday, February 11th, 2014
Ave Maria Meditations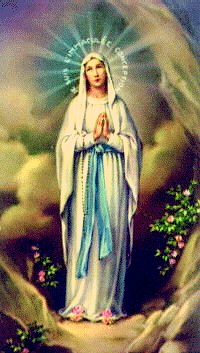 O Immaculate and all-pure Virgin Mary, Mother of God, Queen of the Universe, our own good Lady, you surpass all the saints; you are the only hope of the patriarchs, the joy of the saints. Through you we have been reconciled with our God. You are the only advocate of sinners, the safe port of the shipwrecked. You are the consolation of the world, the ransom of captives, the joy of the sick, the comfort of the afflicted, the refuge and salvation of the whole world.
O great Princess, Mother of God, cover us with your wings of mercy and have pity on us. No other hope is given us but you, O most pure Virgin. We have given ourselves to you, and have consecrated ourselves to your service. We are your servants. Do not then, permit Lucifer to drag us into hell.
O Immaculate Virgin, we are under your protection, and therefore we have recourse to you. We beseech you to prevent your beloved Son from being angry at our sins and abandoning us to the power of the devil.
O you who are full of grace, enlighten my understanding, loosen my tongue that it may sing your praises, and especially the angelic salutation, which is so worthy of you. I salute you, O peace and joy, O salvation and consolation of the world. I salute you, O greatest of miracles, O paradise of delights, O safe haven for those in danger, fountain of graces, mediatrix between God and men. 
+ St. Ephrem the Syrian