Ave Maria!
The brown Franciscans have a new Minster General and he is an American born in Indianapolis, IN which is the same diocese that AirMaria HQ is now located. May God be with him and may God bless all our brother Franciscans.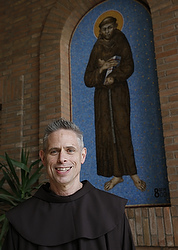 By Cindy Wooden

Catholic News Service

ROME (CNS) — The new minister general of the Order of Friars Minor said the Franciscans are united, energized and challenged by the ministry of the new pope, whose name honors their founder, St. Francis of Assisi.

Pope Francis "has energized us, but he also has challenged us just by who he is," said U.S. Franciscan Father Michael Perry, who was elected May 22. The pope's "authenticity is challenging us to rediscover our own authenticity, and calling us to simplify our lives and to speak less and demonstrate more who we are."

It's not a matter of promoting the Franciscan "brand," Father Perry said, but of demonstrating that "simplicity of life means greater life for all people, it means greater access to all that people need to have dignity and survive on this small, tiny planet we have. It means respecting creation so that we do not destroy the environment in which we live."

Father Perry said he was at the Franciscan headquarters March 13, watching television coverage of the announcement of the new pope.

"When I heard the name that he chose, I physically started shaking," he said, "because this man has taken the name of the person we hold as a model who calls us to live faithfully the Gospel. And I started thinking how short we fall sometimes in living the Gospel."

Many Franciscans quickly went on the Internet and began doing research on the former Cardinal Jorge Mario Bergoglio to find out if what he was saying and doing was "something being invented to make everything look good," Father Perry said. What they found was that "in fact, this man has lived for a very long time what he is calling all of us to take on."

via CNS STORY: New leader of Friars Minor says pope has energized Franciscans.
Here is a video:
A great article and video, but I do wish that more care is taken on how we talk about the environment. It is an important issue but it is often exaggerated to the point that it is a quasi religion today. I certainly am not worried about the "survival" of the planet. I think our main concern as Catholics is that we strive to keep the planet a good place to live and thrive for future generations, all part of good Christian stewardship. Any thoughts?