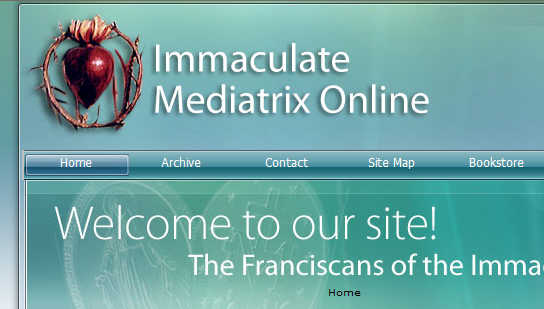 Ave Maria!
Our web site www.marymediatrix.com is back on-line and looking better than ever. Have a look!! Merry Christmas!
+++
3 Responses to "Fi News – Mary Mediatrix is Newly Redone"
Mark Says:
December 26th, 2007 at 4:38 pm

Whoa!

Nice job. During my vacation I must try to head down to NB and celebrate mass.

keep up the great work

John Says:
December 27th, 2007 at 7:13 pm

Awesome job with the new website!

Can't have enough GOOD material out there on the web

Marist Says:
January 5th, 2008 at 4:32 am

This is a great and inspiring website.
Leave a Reply
All replies will be posted immediately, except any containing an URL (link) including one placed in the "Website" box below, will be held for moderation. This is due to spam problems.